Google Cloud Engine (GCE) offers reliability and highly scalable infrastructure for Magento,WordPress, Prestashop and core PHP developers for building, testing and deploying web apps. Especially, developers can build applications for backend, mobile and web solutions.
Though the GCE is reliable, but to launch a complex Content Management System (CMS) like Magento, you should have a vast experience of system administration. In case you are not familiar with system administration or you need to deploy your Magento website manually on GCE, it will take a good amount of effort and time.
Don't worry! Cloudways offers the most convenient cloud hosting platform, making it much easier for Magento developers who want to host their ecommerce websites on Google Cloud Engine. Developers can now lunch GCE server on Cloudways in just a few clicks and minutes.
4 Best Advantages Of Host Your Magento on Google Cloud Engine
The question remains though why you should host your Magento store on GCE. I have four good reasons for you.
Uptime
One of the most enticing reasons for hosting your Magento on GCE is the uptime it provides. The GCE servers rarely go down, giving you 99.99% uptime without any hiccups.
Speed
For Magento-powered web stores, speed matters the most. You get the server speeds that you desire on GCE infrastructure. Backed by Google, your Magento stores on GCE cloud servers are extremely fast and fully optimized for peak performance. Check out some of the network performance statistics reported by ServerDensity.
Reliability
The GCE is the backbone of various services and products offered by Google. Gmail and Youtube are some of the examples powered by GCE. By hosting your Magento web stores on GCE you get the most reliable and the most up-to-date infrastructure.
Scalability
With GCE, you can handle the unprecedented traffic hike without any frills. Whenever you feel like going out of resources, you can easily scale up your GCE server by using the scaling feature via the Cloud Console. It's a 1-click operation. You don't have to worry about the IP address. It will remain intact.
Why Choose Cloudways To Host Magento Store On GCE
24×7 tech support and server management


Optimized Servers with Cloudways' ThunderStack


Dedicated IPs


1-click installers (for, Magento with advance caching)


Easy UI to control servers and applications


Real time server performance monitoring


Unlimited staging URLs and unlimited websites on a single server


Clone servers and applications


Server Scaling


Automated Backups


Git client, SSL, SSH, Cron Job Managers


Addons for email, DNS, and migration (With ONE FREE MIGRATION)
Launch Your Magento Website On Google Cloud Engine Using Cloudways
Follow these steps to get started with your Magento Store on Google Cloud.
Select Magento
Select Magento from the drop-down menu, give a name to your server, application and Project.

Select GCE
Select GCE from the available Cloud infrastructure options.

Select Server Size, Bandwidth and Storage
Choose your server size based on your website traffic. Additionally, on GCE, you can select your Bandwidth and Storage size for your database and application files.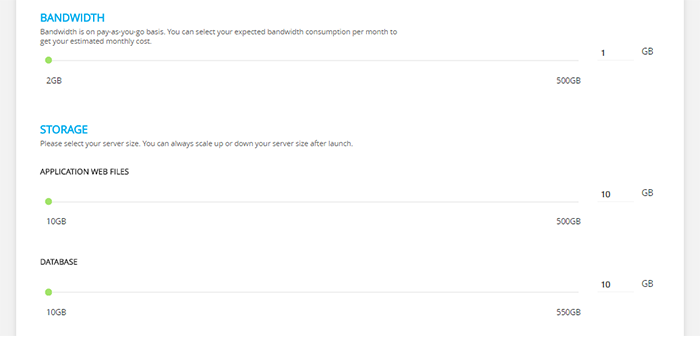 Select Your Server Location
You can select your server location which is nearest to your audience. For GCE you have the option to host your Magento website in 3 regions: USA, Europe, Asia.

This is it!
Click on
"Launch"
button and wait for few minutes. Your fully-functional Magento website on GCE is ready for action.
Final Thoughts
Cloudways provides the most convenient Magento hosting platform for GCE cloud servers. For those who are interested in hosting their sites on dedicated servers with blazing fast speed and top notch optimized performance, Cloudways-powered GCE cloud servers are now one of the choicest entities.
Originally Published at:
How To Install Magento On Google Cloud